CosSwap Mart
November 6th, 2022
CosSwapMart (CSM) is being produced by CosTalk Live (CTL), a group of cosplay friends who host a livestream every Sunday to talk about all things cosplay. Many of our viewers and followers have expressed a need for an avenue to sell their smaller market wares. This event focuses on artists, cosplayers and makers who typically sell their wares at "flea" market style events, in artist alley at conventions OR through a small, online sales platform with limited reach.
There has been an influx of popups catering to the convention-going circuit, but vending at these events are not always accessible to all. CosSwapMart is designed to have a more farmer's market / swap meet feel that is also family-friendly.
CTL is also in the process of producing AZ CosCon, a cosplay focused convention in early 2023. CSM will help prepare us in planning AZ CosCon and funds from CSM will also help fund AZ CosCon and CTL's ongoing expenses.

LOCATION: 12725 West Indian School Road Suite B-101 Avondale, AZ 85392
Vendor Guidelines
No equipment supplied. Vendors will be responsible for providing their own tables, tents, and displays. Spaces will be defined with blue tape and assigned. There will be no electricity access available. Be advised that this event will take place in a parking lot, so it is recommended to bring a tarp or tables to display your goods.
For 6' space, vendors will be required to provide their own 4' or 6' table to help define their space. The 6' space is limited to only 1 vendor.
For 10' space, vendors are not required to bring any equipment, but none will be provided. They are welcome to bring a 10' x 10' tent and any fixtures they can fit within it. A 10' x 10' space may be shared by up to 2 vendors.
Vendors may bring partitions and fixtures as long as they fit within their designated space and are not a hindrance to other vendors.
CSM, CTL and JCO Computers (JCOC) are not responsible for any transaction made between vendors and customers.
Set up will begin at 8am on Sunday, November 6, 2022. Vendors must be completely set up by 10am. Breakdown will begin no earlier than 3:30pm.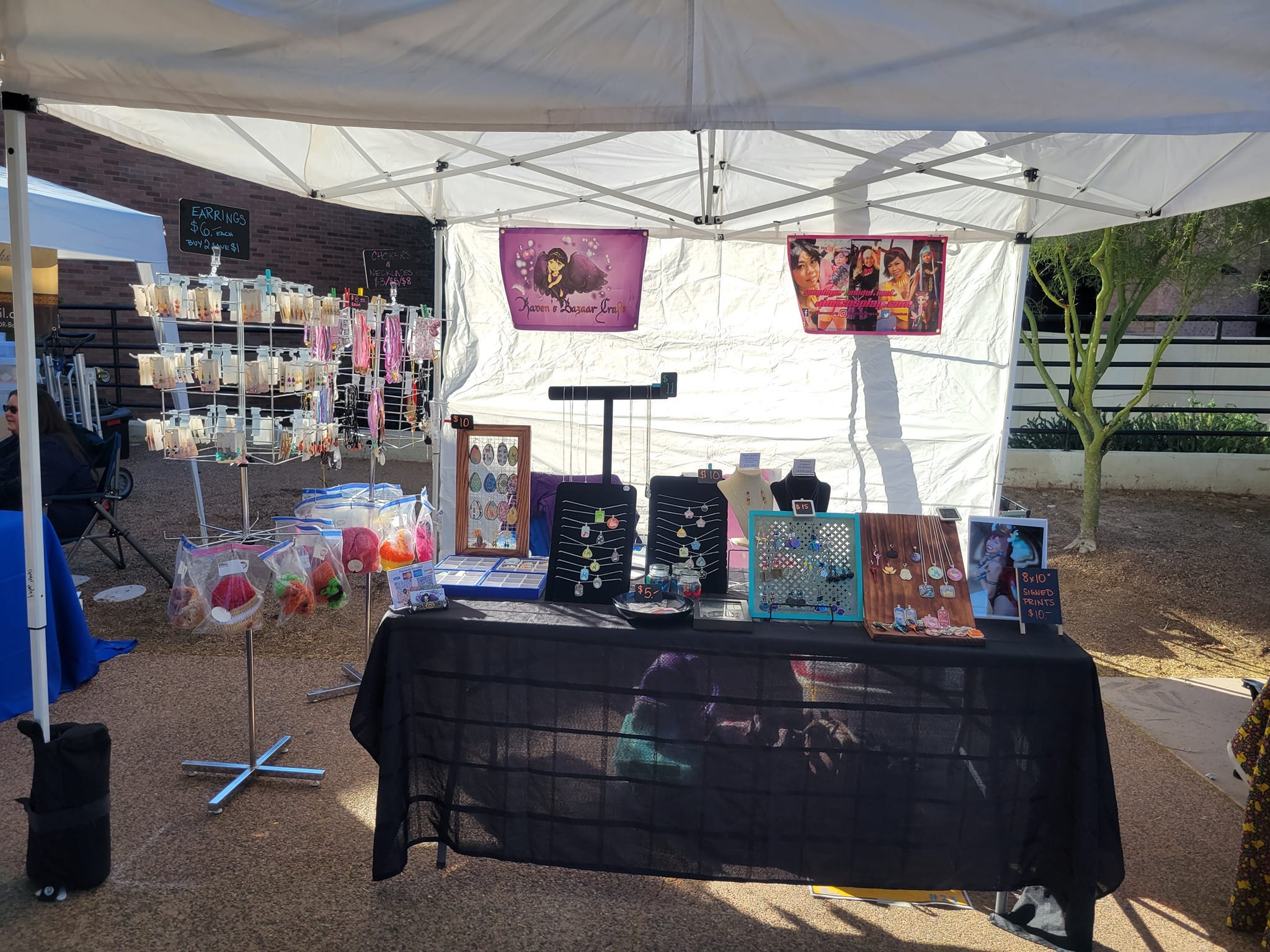 Selling Guidelines
ALLOWED
The purpose of CosSwapMart is to give the geek and pop culture community a place to sell their secondhand and handmade goods.
A majority of your goods must relate to the geek and pop culture community.
Second hand items in good, saleable condition (i.e. gaming systems, figures, manga, etc)
Handmade items
Custom artwork and products of your artwork (i.e. prints, stickers, shirts, pins, keychains, etc)
Cosplay items that are for specific characters or regular clothing and accessories that have been or can be used in cosplay
Normal clothing that fall relate to the geek and pop culture community.

NOT ALLOWED

Pornographic material. Risqué and boudoir items are allowed but must be covered or censored.
Intimate items, such as underwear and bras
Items that appear dirty or damaged
New goods in multiple quantities (retail shops)
Having only goods not related to the geek and pop culture community
Multi-level marketing goods, such as Colorstreet, Paparazzi, Origami Owl, LulaRoe, etc. (Please note: if you have personally owned items from these companies and the like with the intention of your personal use, these items are accepted for second hand resale.)
Vendor Types & Fees
Table Vendors vs Tent Vendors
Table Vendors are a good fit for individuals who have a small amount of items to sell and can fit in a 6' x 6' space; vendor will be required to provide their own 6' or 4' table for space delineation.
Tent Vendors are more suitable for vendors with a large amount of goods, or can be shared by 2 vendors. A tent is not required but is highly recommended. All fixtures must fit in the 10'x10' spot.

FEES

CTL operates out of our own pockets, but we are not looking for profit. We are currently working on producing a cosplay-focused convention called AZ CosCon in the first half of 2023, and proceeds from this event will fund our ongoing costs and production of AZ CosCon.

SPACE FEE
Table Vendor = $10
Tent Vendor = $30

Fee payment will be required upon approval of application. Payment will only be accepted electronically via Venmo, Paypal or Zelle. Payment is non-refundable but is transferable. If you are not able to fulfill your space, you can transfer your payment to someone else as long as their application is approved.
Each vendor is responsible for their own transactions. CosSwapMart, CosTalk Live and JCO Computers will not be liable for any transaction or trade interaction between vendors and customers. Please use caution and good judgment in your transactions.
Q&A
I'm a cosplayer and I want to sell my prints, am I allowed to do so?
Yes, as long as you own the rights to sell your prints and they follow the guidelines.
I'm a photographer, can I sell my prints?
Yes, as long as you own the rights to sell your prints and they follow the guidelines. (For example, if you have prints of cosplayers you may sell them as long as you have legal right to do so.)
Can a minor be a vendor?
No, but a minor may be present and assist a vendor who is an adult.
Can I have helpers in my stall?
Yes, but if we suspect that there are more vendors than what was agreed upon, we reserve the right to take action to rectify the situation.

I used to sell <insert MLM company here> and now I have a lot of overstock. Can I sell those?
Can I cosplay as a vendor?
Sure, why not! Just be aware that this is a family friendly event.
Are dogs allowed?
Well-behaved dogs on a leash are always welcome.
I have a cosplay that was made by someone else. Am I allowed to sell it?
Second hand cosplays are acceptable, regardless if it was factory or handmade. Just know it is in bad taste to claim to have made something that you did not.
Content from Google Form can't be displayed due to your current cookie settings. To show this content, please click "Consent & Show" to confirm that necessary data will be transferred to Google Form to enable this service. Further information can be found in our Privacy Policy. Changed your mind? You can revoke your consent at any time via your cookie settings.
Consent & Show