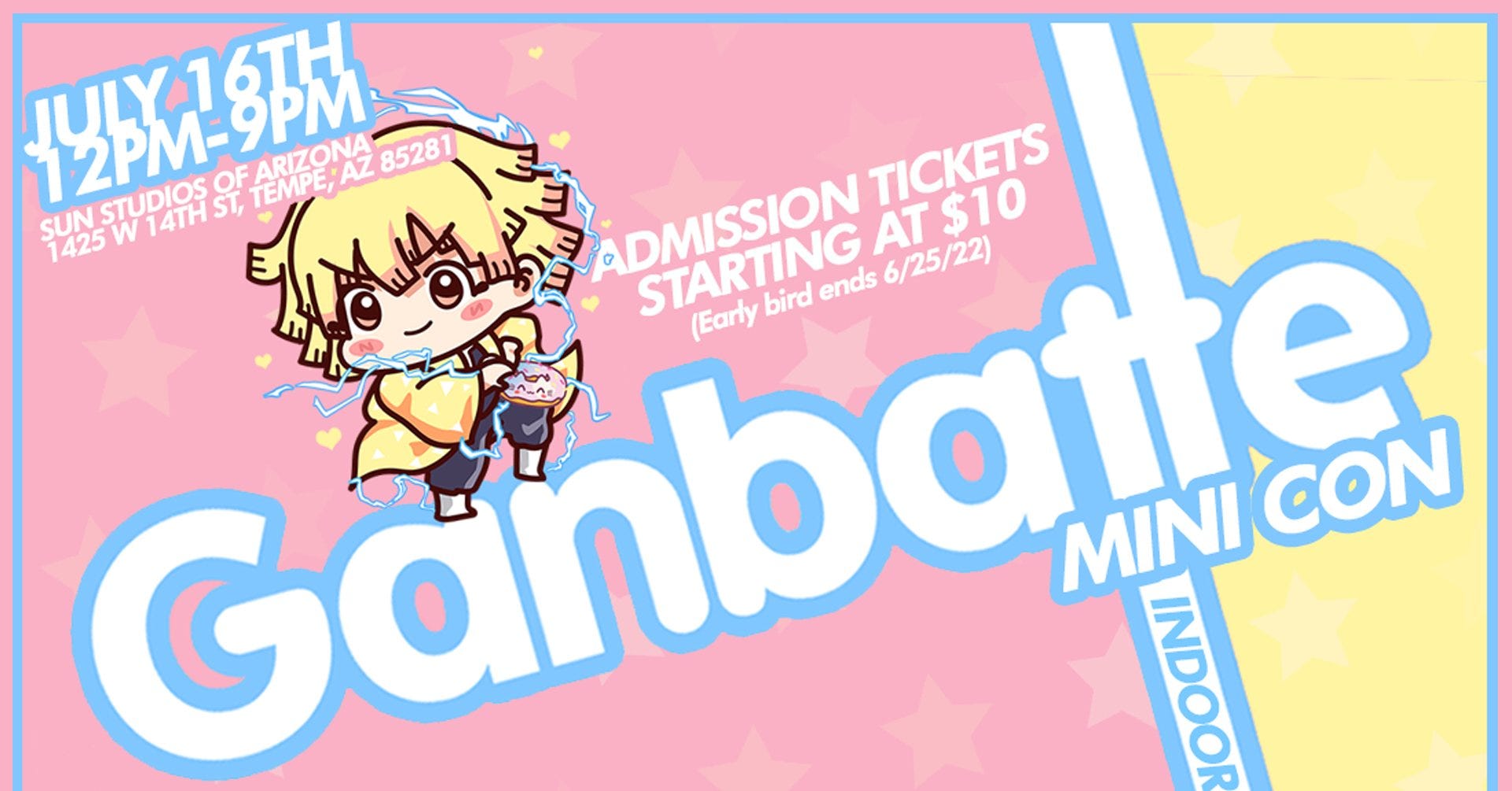 Ganbatte Mini Con 2022 Cosplay Contest Rules
CATEGORIES
Kids Showcase (14 years and under)
Teen and Adult Craftsmanship (15 years and above)
Teen and Adult Showcase (15 years and above)

GENERAL RULES
You may enter any type of cosplay from any genre (original characters welcome). Please ensure you follow general public dress codes.
Your costume will not have won any major award in any other contest (i.e. 3rd place, Runner Up, Honorable Mention, Best in Show, etc.). If in doubt, please ask!
For safety reasons, please do not bring any weapons or props that resemble real weapons (i.e. live firearms, fire arm replicas, grenades, etc.). Nerf guns, colorful blasters, light sabers, swords (real must have blunted edges) are acceptable. You will need to send in a picture of your prop for approval.
You may enter as a group however, if your group wins a prize you will not receive additional prizes for each member.
Entries will be limited to 30 Teen/Adult and 20 Kids. These numbers are flexible depending on our final registration count. If you apply after the limit you will be waitlisted.
Registration will remain open until the limit is reached.
Craftsmanship entries must have a minimum of 50% made by the wearer.
Showcase entries may wear a costume purchased and/or made by someone else.
Due to the nature of this contest, and the lack of a skill categories, if you are considered a professional (i.e. you are paid to make costumes by a company OR you are a commissioner) you are not allowed to enter. This also includes cosplayers paid to appear at events or those whose career include relative cosplay skills (i.e. seamstress, costume maker/designer, prop maker, etc.).
You will need to purchase tickets in order to enter the Ganbatte V.4 and participate in the costume contest.
Check-in will be at 6 PM by the stage.
Walk-up registration will be available until 6 PM or until we have reached the maximum entries.

REGISTRATION RULES
You must fill out the registration form fully.
Send your reference pictures to costalklive@gmail.com with the subject "Ganbatte Cosplay Contest - Your Entry Name".
Your costume does not need to be complete at the time of registration. Craftmanship pre-judging will take place upon your check-in. Pre-judging is not required for Showcase entries.
PERFORMANCE RULES
You will only have 30 seconds to a maximum of 1 minute on stage. The entry may perform a walk-on or anything that may represent the character. A skit is NOT required.
All performances must be PG-13.
Audio submissions cannot be accepted and microphones will not be available.
Any fire, lasers, smoke, or ANY material that would be left behind on the stage (i.e. confetti) are prohibited. Your costume and props must all be self-contained.

Have other questions? Email us at costalklive@gmail.com.